I really like the word "Kaizen". It is a Japanese word that means "Good Change" or "Change for the Better" and represents the idea of continuous change to improve all functions of an organization. It is a popular business philosophy that helps increase productivity using increased awareness and action informed by that awareness. The idea is that when changes (great or small) are made over time they can result in great improvements on productivity. While this is most often used as a business strategy, it's easy to apply this idea to one's personal life. It's been an helpful tool for me because I can easily become overwhelmed when I try to change too many things at once. This weekend, my Kaizen focus was cleaning and organizing my studio/office.
Chris and I share the second bedroom of our condominium as office space, which means we have a lot of stuff and two desks packed into a small room. I'm a little ashamed to admit that most of the stuff is mine. With nearly a dozen different hobbies, there's a lot of "stuff" that I've collected over the years that have practical or sentimental value of some kind. Something I've learned about myself is that I tend to become very distracted by clutter. It overwhelms me to think of how many things I could or should be doing, and I end up not getting any of it done. With the goal of reducing the visual noise of my portion of the office, I reached out to my friend Christine Daves of "Think Organized" to help. I met Christine when I was a student at MCAD and I knew she had recently started her own business as a professional organizer. I knew I didn't need much help, but I wanted someone with a trained eye who could look at the space, see what I had, and help make it work harder for me.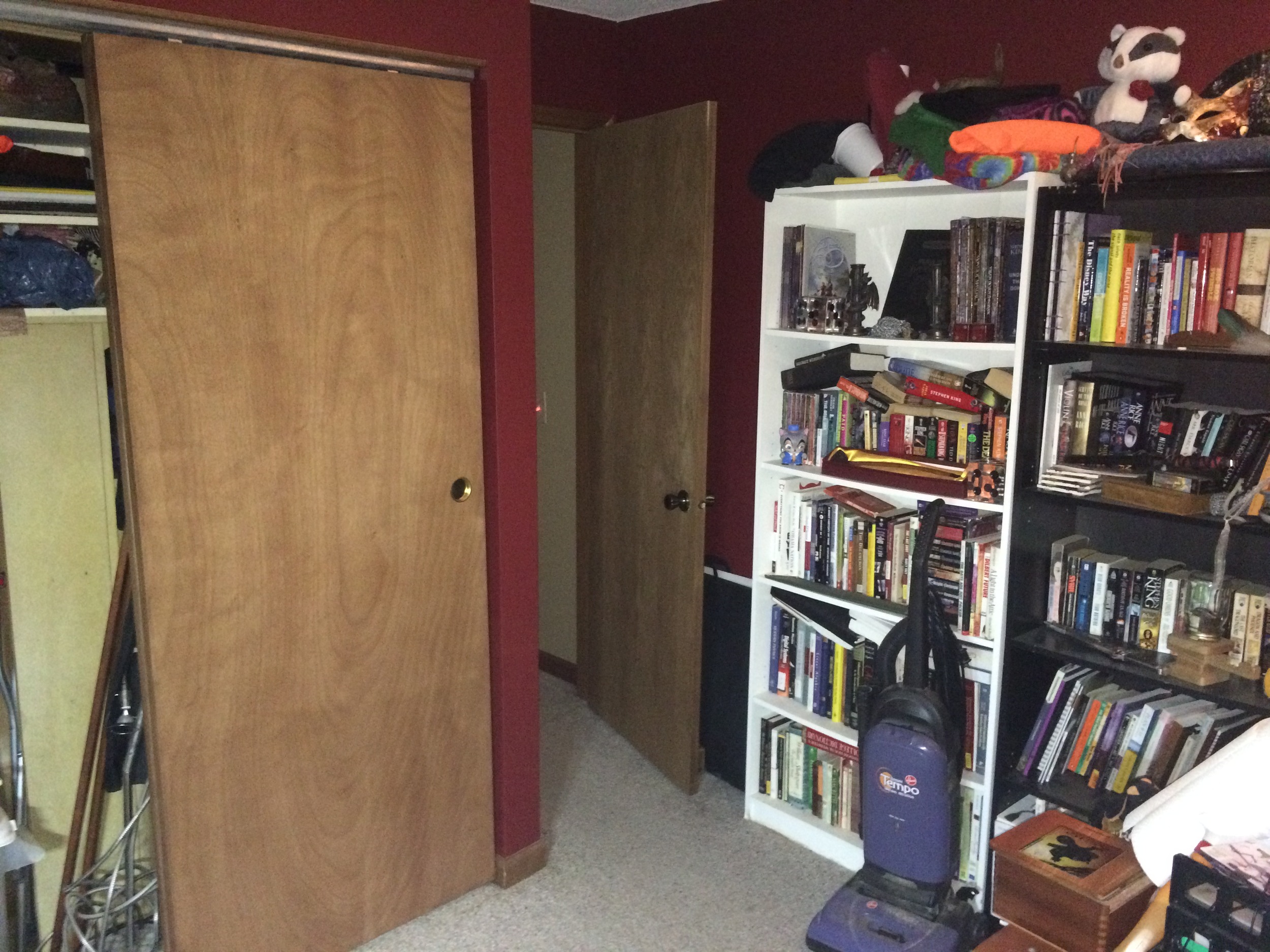 After the initial consultation, the first thing that Christine recommended I do is buy some of the shelves that work with my Ikea Kallax series desk. This would help me maximize the amount of space I could use of each cube. Before our big cleaning day, I bought a few of the units, Chris put them all together for me, and the cats enjoyed playing in them.
A couple of days before Christine and I were going to do all the work, I pulled everything that wasn't furniture (or belonged to Chris) out of the office and into the living room where I could see it all and sort through everything. I organized it all into categories such as Sewing, Chainmaille, Electronics, Drawing, Painting, etc. This would make it easy to keep related things together when putting it all back in the office. Once everything was out, I was able to determine if it was worth keeping, or if it should be donated or thrown away.
I found some great relics of my childhood, like a box of Lisa Frank stickers which, when I posted "up for grabs" on Facebook, was quickly claimed by my dear friend Tanya for her daughter Willow. I'm glad that something that was very dear to me as a child will be enjoyed by such a great kid like Willow. As I dug through the piles, I paged through old college notebooks, read thank you cards, and looked at pictures of friends. When I found notes and mementos given to me by friends, I took pictures and shared them in private messages via Facebook and we were able to catch up a little which was delightful and truly rewarding. At the same time, I was able to get rid of stuff that was not needed and was unnecessarily taking up space in the room and in my mind. It felt very cathartic to throw away or donate things that reminded me of unpleasant times so I could make room for what makes me happy.
When the big day came and reinforcements arrived, Christine helped me evaluate what I had and figure out the best places for everything. We started out with a huge mess, but broke everything up into groups based on the categories I had already set up. The Ikea bins really came in handy for things like fabric and drawing supplies because I could use the entire height and depth of the cube without worrying about stuff spilling out. The drawers and door helps reduce the visual clutter by hiding what's inside. Everything is still really easy to access, but I don't have to look at it all the time. And since I had gotten rid of so much stuff, I was even able to throw away a bulky poor quality storage unit that was an eyesore. This gave us more space in the office now we can actually close the closet door where previously it had to stay open for Midnight's litterbox.
I still have a lot of things to sort through and find homes for, but I already feel like a weight has been lifted off of me. I'm excited to work on projects that have been building now that I have space to work. This was a great way to clear my mind and make many small changes that will hopefully provide great results. I can even see my prized Mucha prints again!
Thanks for all of your help Christine!